MEDICAL ENTRANCE exams
made easy!
At Biomentors, we focus on education that's far-reaching and bring it wherever you are. Combining the power of technology with tried-and-tested teaching methods, we prepare our students the best. Use our Website or Download our App for Android Devices from Google Play.
Login / Signup
A complete solution to your Medical Entrance Exam Coaching
Learning is a Dynamic process that extends beyond the classroom. So, why restrict yourself to traditional settings? BIOMENTORS is an online institute for medical entrance examinations like NEET, AIIMS & JIPMER. We are passionate about quality education.
Online Competitive Tests
and Daily Practice Problems
Scheduled exams & practice modules to keep you sharp. Our online Tests are available on particular dates throughout the day, at your convenience so you can give the test at any time. We follow a rigorous study plan so you always stay on the right track.
---
Doubt Resolution
and Discussion Forum
Get your doubts solved from the masters or your friends. All of our Online Classes for NEET, AIIMS and JIPMER Exams are punctuated with feedback and lectures from experienced instructors for Medical entrance exams.
---
In-depth Analysis
and Recommendations
Detailed analytics of the study pattern and recommendations. As compared to big coaching institutes, we have an option for Online NEET exam / Medical entrance examinations preparation, at a very minimal cost.
Our Success Stories ...
Biomentors.Online is a growing family of Students and Teachers. All of us at Biomentors have tried to influence our students to give their best either through our Motivational Videos, Constant Reviews or Pep Talks by our Faculties. Here are the stories of a few of our Students who succeeded at their Goals and consider us to be a part of their Journey.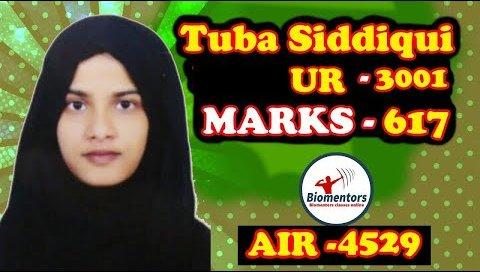 Sidra Tuba Siddiqui
Student since - July 2018
Tuba Siddiqui - Biomentors Commando 2019 NEET Batch Success story NEET preparation Strategy shared by Tuba - NEET Marks - 617; AIR - 4529 (Unreserved - 3001)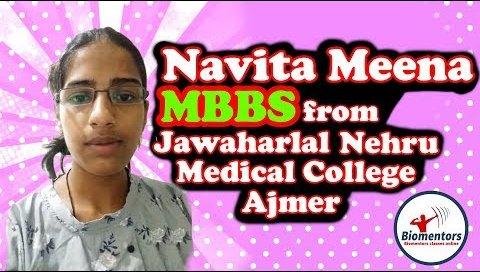 Navita Meena
Student since - September 2018
Navita Meena - Biomentors Commando 2019 NEET Batch
Success story
Rhythm Srivastava
Student since - May 2018
RHYTHM SHRIVASTAVA - Biomentors Commando 2019 NEET Batch Success story